WE DESIGN YOUR DREAM TRIP TO GREECE!
Design your own customized educational travel program!
...we build the trip around your schedule, your wants!
CUSTOMIZED VACATIONS- CHARTERED VEHICLE –
Custom
design tours mean a more private and self directed way to travel,
Our tours are private for your group, with a specialized guide / bus…more personal / flexible / relaxed.
A custom designed experience, combining local culture, small villages, ancient cities, Healthy traditional Mediterranean meals, museums, walking, daily tours….do we need to say more?
Meals. 19 meals, all the way natural according the traditional Greek Mediterranean cuisine.
For transportation, A chartered vehicle with driver known of Greece and the Greek cuisine will drive you over 35 cities / sites / ruins.
For lodging, We have chosen locally owned smaller hotels, over larger beach resorts, for their charm, location and local flavor.
Please come and join with us the Greek hospitality, beauty, nutrition …and its people.
Tour for people who don't like commercialized tours!
The tour we offer is unique, unconventional vacation for soft adventurous
We use very fine hotels with private bath, bed & breakfast basis, usually air-conditioned, always in the best location. The meals are in fine local restaurants.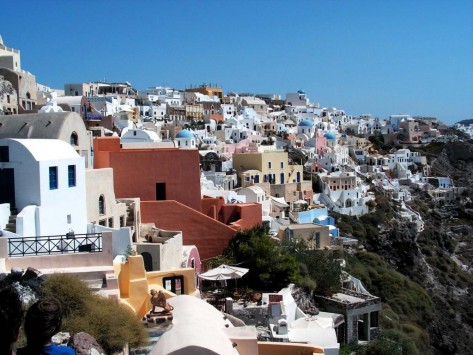 We go to famous places, we visit over 25 museums, archaeological and historical sites during the tour. We also go out of "tourist zones´ places, meeting locals who aren't trying to sell to you something and just having fun. Your private driver – exclusive tour leader, will give you his knowledge of Greece, culture and traditions and spend as much time, seeing the new as well as the old
April, May, June, September, October
Price per person Based on
:
---
Single occupancy: Add + €442, 00
---
14 nights accommodation:
13 nights at Moderate*** hotels / double occupancy on Bed & breakfast basis + 1 night accommodation on board at AB2 cabins (double inside cabins with shower & WC)
Meals:
19 meals. Rich / healthy / natural / the traditional
Mediterranean way (day2 – day 12)
Car:
10 days Chartered vehicle with English speaking driver from day 2 up to day 12
Cycling:
3 days cycling or mountain biking escapes when in Crete
ATHENS Airport / hotel by arrival, port / hotel by return from Mykonos, hotel / airport by departure to home.

:
SANTORINI:
port / hotel by arrival & hotel / port by departure
MYKONOS

port / hotel by arrival & hotel / port by departure.

:
Ferry tickets
: Piraeus / Heraklion (AB2 cabin – double inside cabin with facilities), Heraklion / Santorini (economy class), Santorini / Mykonos (economy class), Mykonos /Piraeus (economy class)
Escorted tours:
Athens city tour including Acropolis (day2) & Tour of the sacred islandof Delos when in Mykonos
Services:
Office service daily 08.00h – 22.00h, Saturdays & Sundays included
Drinks –Tips - anything not mentioned above